Biography
---

"The stories I tell are all true except
the few that are obviously whimsy."
Gamble Rogers has been described by journalists coast-to-coast as:
"An American treasure ... an awesome talent ... one-hundred percent enjoyable ... a rare and guaranteed treat ... worthy of inclusion in the Smithsonian."
High praise for a man who refered to himself simply as a modern-day troubadour and folk singer. "I have been incredibly fortunate in being able to make my living doing what I love -- entertaining," the native Floridian once said.
Steeped in the oral tradition of storytelling and philosophical humor, he first gained national prominence as a member of the Serendipity Singers, playing lead, acoustic and electric guitars. Music led to storytelling, as the band asked Gamble to be their spokesman. He introduced and verbally set the stage for their songs when they appeared on television shows such as "The Tonight Show," "Hootenany," and "The Ed Sullivan Show."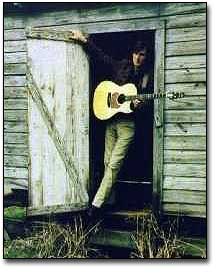 After approximately two years with the Singers, Gamble left the group returning to the south to concentrate on his development as a solo performer. He continued to refine his storytelling craft, unique in its colorful cast of characters, settings and philosophical humor. Gamble's work has been compared to that of Mark Twain and Will Rogers, and his humanistic perspective seems destined to survive beyond his years.
Gamble's stories have grown both in magnitude and scope, becoming as popular as the songs they introduced. While touring in the United States and Canada, his audiences grew steadily in number as fans returned to show after show, bringing friends to share the experience. His delightfully entertaining and skillful command of the English language prompted numerous invitations to teach in both classrooms and workshops, including a chance to share his art with others during frequent return engagements at the National Storytelling Festival in Jonesboro, Tennessee.
Gamble guested on numerous American and Canadian television programs, including the PBS special entitled, "Gamble Rogers-Live at the Exit/In," and multiple appearances on "90 Minutes Live," the Canadian Broadcasting Corporation (CBC) equivalent to "The Tonight Show."
Gamble wrote the theme song for the thirteen-part "Philadelphia Folk Festival" series on PBS and the five-show series "Fantasies of Florida," a six-hour documentary on the rich architectural heritage of his home state. He narrated numerous films and audio/visual presentations including a film produced for NASA that was shown daily at the Kennedy Space Center.
During the late '70s, Gamble was featured as a weekly guest commentator on National Public Radio's award-winning news magazine "All Things Considered." From 1982 to 1984, Gamble returned to the show as a frequent commentator and contributor and his Travis-style guitar interludes were heard on the show each week. He became known as the show's philosopher-in-residence and one of his monologues, "The Great Maitland Turkey Farm Massacre of 1953" was included in Susan Stamberg's book "Every Night at Five: The Best of all Things Considered."
In Fall, 1985, Gamble co-hosted and starred on "AT&T Presents: Carnegie Hall Tonight," following his concert appearance at Carnegie Hall with Doc Watson. The show was billed as a special tribute to the American-style of guitar playing.
Gamble also took his talent and wizardry with words to the stage as the author of several plays for radio, television, and theatre. "Good Causes: The Confessions of a Troubadour" was aired during the 1977 winter season of National Public Radio's drama hour, "Earplay." Gamble's second play "Florida Sands," was scripted for "Folk Festival, U.S.A." and was produced by NPR in the fall of 1980. Both programs were well received and subsequently rebroadcast coast-to-coast.
Gamble's success continued as he authored and appeared in his first dramatic screen play for television, "The Waterbearer." Produced for PBS in Florida (1984), the play has been made available to other regional PBS systems nationwide.
One of Gamble's projects, "Oklawaha County Laissez-Faire," was a one-man play written for the theatre and based on the colorful cast of characters and mythical setting that filled Gamble's stories for years. Completed in 1990, Gamble's characters found a new proscenium from which to amuse and enlighten.
"The stories I tell are all true except the few that are obviously whimsy," he once said. "Each and every one of the characters in my stories started out representing a specific person. The characters may tend to be outlandish," he admitted, "but their statements resonate with a certain amount of horse sense."
---
IN MEMORIAM:
...I thank Nancy, who continually challenges me to know my own heart.
James Gamble Rogers Ⅳ (1977)
© Steady Arm Music.